Hime cut is among the most popular hairstyles that bring beauty and femininity to any lady. The style is classic, and there is no reason not to try it!
The hime cut, which is also known as hime katto, is a princess cut that began in the Japanese imperial court in the Heian period. The Royals grew their hair but maintained the bangs at eyebrow-length, and they cut their sidelocks at cheek-length. This hairstyle also made its way to the predominantly in anime.
The hime cut hairstyle is a combination of the Binsogi and Amasogi hairstyles. The Binsogi cut is a hair cut where the hair is cut near the ears at ear-length, the hair cut was done during the Binsogi ceremony when a woman turns 20 while the Amasogi haircut is the blunt shoulder-length cut that was popular back in the imperial times. The hime cut is popular in the "gothic Lolita." The haircut is now adopted in South Korea with many K-pop stars rocking the look.
HIME CUT HISTORY | WHAT IS MEANT BY PRINCESS HAIRCUT?
Hime cut is a famous hairstyle that originated in Japan. It is a favorite style of the fashionistas, including celebrities, from Asian stars to Taylor Swift. This hairstyle makes a woman look pretty, and it increases grace and elegance.
The hime cut began in the Heian Period, and it has continued to be number one for noblewomen and riyal family members in Japan. This trend started in the Heian period to make women feel and look different from the regular women of that time.
Hime haircut needs a lot of maintenance and care to do the style every day, and only wealthy women could rock the look at that time. This look is now widely popular among all women in many countries. Hime cut is currently losing favor among the royals, and prominent styles such as Princess Curls are getting famous among anime royalty.
This hairstyle still has a good chance of showing up in anime characters is an Ojou or other characters. In more modern settings, it's popular with Elegant Gothic styles. It's also used to accentuate personality traits classic associated with the Ojou and similar types: calm, dignified, traditional, elegant, graceful, shy, and modest (or some combination thereof). When listing examples, please identify which character traits the Hime cut is symbolizing or accentuating.
Now that you know the origin of the hime cuts let's deep dive into the ways that you can style it.
20 GORGEOUS JAPANESE HIME HAIRCUT STYLES
1. CHEEK LENGTH HIME CUT
With the classic appearance of the haircut, this hairstyle is meant for an authentic look. The front fringe slightly reaches the eyebrows, and the side locks end at the cheeks making a face appear softer. Yes, those princesses knew how to rock that framing right. The traditional hime cut has side locks that are cut at the cheek-length with bangs, and you do not always have to rock the bangs.
2. CHIN-LENGTH HIME CUT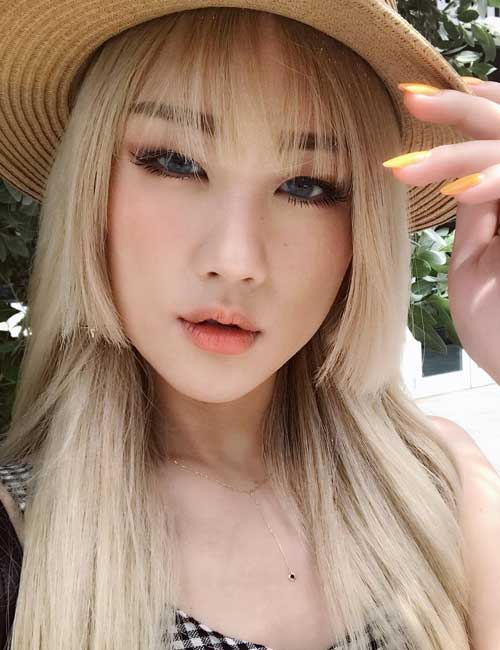 The chin-length hime katto works on your facial features, and the classic hime cut a little below the cheeks; however, you can take it to the next level, the bangs hit the chin to help frame your face by accentuating touch to the jawline. How about making your face appear slimmer?
3. THICK HIME CUT
This is the best hime cut hairstyle for you if you have thick hair. Thick hair may seem too dense; however, the hime cut can tame it and show its volume at once. Make sure all the layers fall on one another, forming a well-separated structure. Your thick hair will look flawless when cutting in three separate layers.
4. LONG HIME CUT
Those who love to try new styles but at the same time do not want to step out of their traditional look can try the long hime cut. The aim is to cut the hair no longer than chin length to avoid losing the contrastive graduation charm. Having longer side bangs can make the hairstyle look great. Pair the long side with your hime cut. It also reduces the regular trimming process. By keeping the side bangs thick can also build more volume.
5. DOUBLE SIDELOCKS HIME CUT
They say good things come in pairs. Double the charm of your royal hairstyle, the double sidelocks hime cut, the first sidelock is cut at cheek-length, the second one is cut a little lower. The more layers, the more defined your look will be, and it also adds depth to your hair.
6. TAPERED HIME CUT
This hime cut is suitable for thick hair but it doesn't mean you should not adopt this style if you have thin hair. Unlike the classic look that featured a distinctive and drastic hair contrast, this tapered hime cut moves in the opposite direction. This look adds a particularly soft touch to your hair and helps to add dimension to your face. You can get your hair tempered at the edges by making the hair sections blend smoothly. This hairstyle saves you from the tiresome thick hair commitment.
7. DISSOCIATED HIME CUT
You can guess the look of this hairstyle by its name. Both bangs and sidelocks are separated from each other and aren't combined. That's why it is called dissociated hime cut.
8. CURVED-IN HIME CUT
The main difference in this style is the curved sidelocks at the end and of course, that's why people called it curved-in hime cut. This hime cut needs more attention and maintenance.
9. THIN BANGS HIME CUT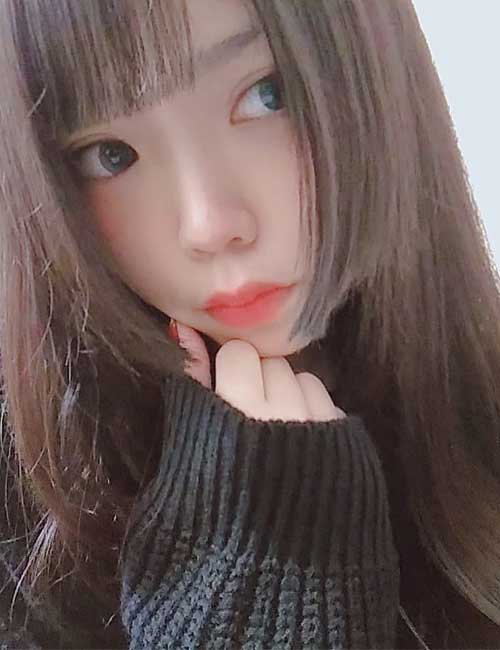 Maintenance of thick front bangs is not easy for most women. This style is not less than a blessing for those women because the forehead bangs are light and easy to maintain in this style. It also looks different from other hime cut hairstyles. You can style it as you wish.
10. MODERN HIME CUT
Hime cut is getting popular day by day all over the world. People are creating new ideas to make this style familiar with the modern world. This is an example of a modern hime cut that anyone can adopt who doesn't like forehead bangs. You can merge the sidelocks with side bangs and you can also make the locks wavy at the same time. It is suitable for females with round-shaped faces.
11. THE COSPLAY HIME CUT
If you are going to participate in a costume party or a Comic-Con event to represent an anime character then the cosplay hime cut wig is the best choice for you. You can easily appear with a hime-cut hairstyle by wearing it. Most of the cos-players usually sport it.
12. SLEEK HIME CUT
An elegant hime cut comprises both blunt bangs and blunt sidelocks. Just apply hair gel to the bangs and the sidelocks before combing them down. Be cautious with the amount of gel that you use to avoid looking oily and weighed down.
13. HIME CUT PIGTAILS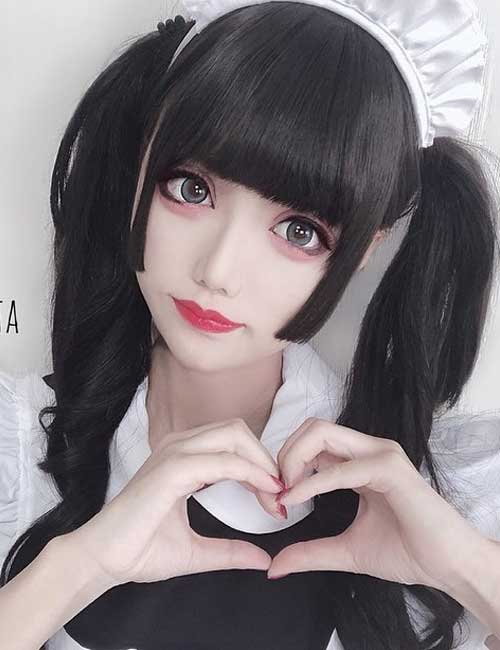 Female anime characters often adopt the hime haircut style because a hime-cut can give them different looks as needed during an anime play. Tying your hair in pigtails can completely change your look, you can change your look from older to younger by applying this style.
14. HIME CUT BOB
In the early days of hime cut, it was famous for only long hair, but nowadays many people with a bob cut are achieving this style and also a large number of celebrities around the world sporting hime-cut bob.
15. FLAPPER HIME CUT
With the short locks and thick bangs, this flapper hime-cut gives you a unique and beautiful look. This style will make you look like an anime character. You can get your friends' and cousins' attention by achieving this gorgeous hime-cut.
16. HIME GYARU HAIRCUT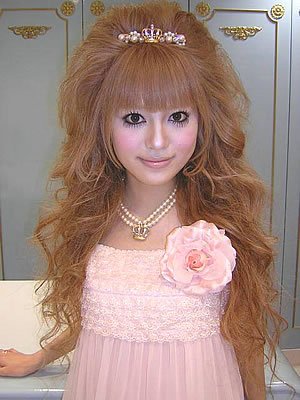 Himegyaru (Sometimes written as Hime Gyaru or Hime–gyaru) is one of the many sub-styles of Gyaru (Gal). This style is characterized by long hair, which extends past the shoulders and usually falls straight.
17. HIME CUT KOREAN
The Hime Cut Korean is popular in Japan, Korea, and other countries. Korean women are often very conscious about their hair; thus, the Hime cut has become one of the most desired cuts for Korean girls over recent years. Women usually get this style because it is easy to maintain and looks great with any outfit they wear daily.
There are many different haircut variations, but the most popular one is leaving a few inches above your shoulders and cutting it at an angle to below the chin line. This style has been trending over recent years because celebrities such as Yoona of Girls' Generation have made it fashionable among students in Korea.
18. HIME CUT WITH SHORT HAIR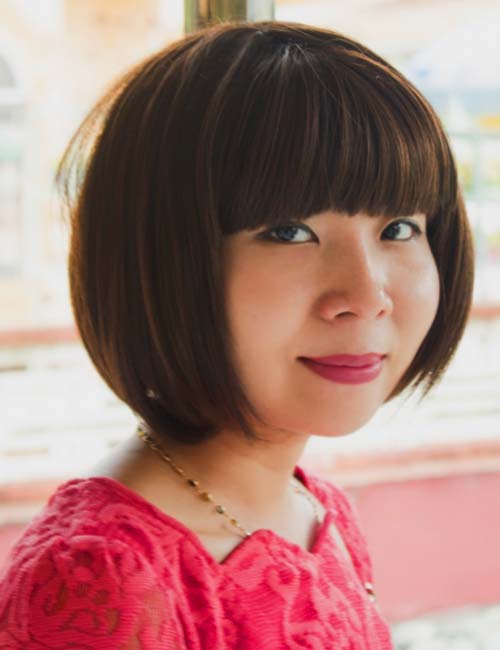 The hime cut with short hair is a trendy style among teenagers in Japan. The hair is cut just above the shoulders at an angle of 45 degrees from both sides, forming a straight line along the back of your neck. Girls usually come up to the stylist and ask for this specific haircut because it's daring without being too overwhelming. This type of hime cut will make the hair look thicker than usual, which makes girls feel more confident about their appearance.
19. HIME CUT PONYTAIL
Ponytail Hime Cut is the perfect way to switch up your look. This style features a regular pony, frontal fringe, and sidelocks that just touch your cheeks. The best part about this cut is that it's not as straightened as usual; instead of keeping them in place with heat or chemicals, you can give those sidelocks a curvy shape!
20. HIME CUT CURLY HAIR
The hime cut is often done with curly hair, especially in Japan. Curls found at the chin or lower down on a woman's head can be styled to create this look, and it will take just as long for your curls to dry if you don't use any products beforehand. But if you do want some extra volume in your hair, you need to use a styling product that will help the curls stay up and maintain their body throughout the day.
The best way to achieve this look is with volumizing mousse or gel applied to the roots of your dry hair. If you want an even more significant effect, tease out some of those baby hairs around your hairline and crown so that you have more volume all around.
USEFUL TIPS TO GET HIME HAIRCUT:
Decide what kind of hairstyle you want before going to the salon. This will help guide your stylist and make it easier for them to cut the hair around your face or ears without hitting the wrong spot.
Pick a type of haircut where the layers are long on top but shorter in the back (not choppy).
Hime hair comes in many different lengths, so make sure to communicate with your stylist about what length you want.
Pick a side that matches the style of Japanese women's hairstyles (for example, most girls have their bangs on one side and then flip it over). The trend is usually to have long hair on one side of the head and shorter hair on the other.
Use a styling product or gel to create waves in your locks if you want that "no-fuss" look, but don't go too overboard with it. The whole point is for this hairstyle to be easy!
When you're styling your hair, it's important to know the right way to use a round brush. Brush from the roots of your scalp down and out.
Layer what you want by brushing in that direction with smaller sections (a good tip is always to start at the back). It takes some practice before you get used to using a brush, but it's worth the time.
To get that effortless look, don't brush too hard–that'll just make the hair stick up in all directions and cause flyaways.
Go shorter on one side than the other – This will give it a unique look and make sure that people notice! If you want to add some volume or texture, go ahead and blow-dry with a round brush. You may also use hair spray if needed.
Make sure that you're brushing from the scalp to out. This will help lay your hair and keep curls in place.
Keep bangs in the center of your face. This will frame your features and keep them looking sharp.
Brush layers outwards, so that they're not sticking up all over the place, this is a sure-fire way to make hair look messy!
---
Finally, hime haircuts are initially from Japan, but they have now gone global and can be found in many different countries! They're a great way to spice up your hair, and there is a wide variety of hime hairstyles so you can choose the one suitable for you.
So, which of these styles would you like to adopt, and what is the reason for it? Tell us in the comments section below. Thanks!
Bye Bye!