"Lice comb on wet hair or on dry hair?" I have a story on this question that will interest you. I have listened to a lot of people argue about this too many times, and where does it usually end? Confusion. I was standing down the lawn of my office at the clinic when a man returned to his friends from the pharmacy.
He had got lice to comb, and he wanted to find out how it should be used. He began to ask, 'guys, should lice comb be used on wet hair or dry hair?' He ran his left hand in his hair in worry. What would you tell him if you were his friend?
Well, his two friends looked at each other and one shrugged, 'I think it's wet hair' the other looked at him and frowned, 'that's not right, you should use lice comb on dry hair!'.
They began to argue to that stage where they could make no sense of what they were even arguing about, and rather than get the facts, they ended up crazy.
That's what happens every time. You get indecisive about choosing the right hair and your friends help pile on your confusion when you ask for solutions. Can I blame them? Of course not.
Choosing the right hair (whether wet or dry) is difficult, why? Both dry and wet hairs seem to have got their pros and cons, and that's what makes choosing one seem like a battle for the brain and mind.
But just before I show you what you should choose, what do you call a lice comb, what is lice itself, then wet and dry hair, where's the difference? As medical practitioners, we were taught not to make assumptions in cases like this and I'd better just talk it all out myself.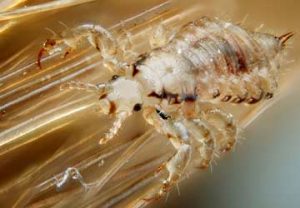 A louse (the singular of lice) is one crazily tiny creature that enjoys sucking out energy and nutrients from living things through their hair. Well, not all living things, it mostly affects just cattle and dogs, heaven knows what made it choose humans too.
It's tasty food for some birds like egrets and I guess that's why you find egrets where cattle are, they pick them straight from the cattle's bodies. I have to say, it's harmful to human hair. It sticks right in the roots of the hair and saps off vital nutrients. It can be transferred from a person to another too.
And lice comb? Just before we take proper medical actions and medications, we usually ask people to get lice combs and comb through first, when they complain about Lice, it's an OTC remedy. Is lice comb different from a normal comb? Absolutely! It is thinner and the straws are sort of closer than they were on your normal comb.
It is so thin, tiny, and closes that the straws can comb your hair and dig down to the level of sticking the lice and dragging them out, gluing them to themselves. Lice Comb doesn't remove all the lice most times, but it does a great job, and it's a great start for lice treatment.
I often recommend black ones because they are combing the forest on your head for white kinds of stuff and you can easily spot them on the comb once it picks them due to the color contrast.
Now, the dry hair wet hair quiz competition? The wet hair is just the state of having some liquid in your hair. You have probably just returned from the bathroom and your head is really watered, you've added some hair conditioner or perhaps shampoo.
Any of those moments you can touch your hair and feel the moisture in your palm is when everyone says you've got wet hair. And dry hair? Just the opposite. Those times you feel no moisture in your palm when you touch your hair, it is just dry and nothing feels watery in your hair.
Though research in 2016 proved that it is not near a great idea to walk the streets on dry hair all day, it is actually okay to have it once in a while.
When it comes to using a lice comb, people are trying to find out if using the comb right after a bath before drying your hair is a good idea or if you should dry off your hair and be sure you've got really dry hair before starting is the cream of the game.
Well, none is out of it, but if you ask me, what drying your hair and combing hard means is you will likely be too hard on your hairs, cause strains, uproot off hairs and cause hair loss and end up with scalp damage. That's more than you asked for, though, you'll get out an amazing number of the lice, especially if you are doing it with the detangler.
But if were the wet hair process, which is naturally healthy anyway, you can easily apply your air conditioner and your detangler, then go on and comb right from the root without getting hard on your scalp on your hair. Dr. Lingard of a Hospital in Lancaster in one of his recent books suggests keeping your hair wet and straight before even trying out your lice comb.
From my few years of experience, I recommend this method for two peculiar reasons, nothing upsets your scalp, and the lice easily find it difficult to stick in the hair roots and so fall prey to your marauding comb and that's the fun, you got them right where you want them.
The big black side of the wet hair process is just that it causes hair shrinkage too, you seem to comb out most nutrients the hair gets from the scalp as you dig out the lice from the root of the hair. So, you try dark hair, and hair shrinkage is staring you right in the eye. You can only reduce it with air conditioners.
But really, if you consider the pros and cons that I have detailed, you won't have to ask friends and watch them engage in an oratory contest just to render you the right solutions. So, I'd like to know, what's your preference, have you tried it, how did it work, did you find this helpful?