Is coconut oil good for the hair? Besides being used as an ingredient while cooking, found in skincare products and traditional medicine, a lot of sources claim that coconut oil is good for hair. But, what can coconut oil do for your hair and how should you use it? There are many questions you may have when it comes to using coconut oil to improve the health of your hair, but we are here to answer them and to help you grasp the benefits of the coconut oil better.
Coconut oil can be incredibly beneficial for the health of the hair if used correctly. It can help you to grow long and healthy hair. Your hair gets damaged daily by pollutants and free radicals in the air. By combing, washing, drying and tying up the hair you are also causing it a great deal of damage, which prevents the hair to grow longer, as it wears and breaks. Even though you can't completely protect your hair from the damage as all these things are necessary for your hygiene, you can limit the damage and help your hair to grow stronger. This is where coconut oil steps in. It can help you to moisturize your hair and protect it from protein loss and damage, as well as shield it from the environmental damage like pollutants and the sun. Besides helping your hair grow longer, coconut oil is also great at protecting your hair from the sun, moisturizing your hair, preventing hair loss and can be used as a dandruff treatment.
HOW TO USE COCONUT OIL PROPERLY?
Coconut oil can be used as a great scalp treatment, as it moisturizes and keeps your scalp healthy. In order to use coconut oil as a scalp treatment, you want to melt it. Make sure it isn't too hot because you don't want to burn yourself. The best way to heat up the coconut oil slowly is to use an old fashioned method. First, boil some hot water in a saucepan, and place a bowl into the hot water. Then you want to add a generous amount of coconut oil and place it into the bowl. You want to keep mixing the oil as it melts down. Once the oil is melted, let it cool down for a couple of minutes. Once the coconut oil has cooled down, you want to rub it into your scalp using your fingers. Leave the treatment on for twenty minutes before rinsing with shampoo.
If your hair gets greasy quickly or you use a lot of products in your hair, you want to give your hair a deep clean when you wash it. Coconut oil can help you achieve this easily. Just as you can do when cleansing your face, you can double cleanse your hair. Try using coconut oil as a pre shampooing cleanser. You want to melt the coconut oil for this method as well and massage it into your hair. The coconut oil is going to break down the product and lift off any dirt or pollution that has gathered in your hair. Then you just shampoo and condition your hair like you normally would. Coconut oil will break down and get rid of any dirt, which will, in turn, allow your shampoo to do a better job.
Because of its many hydrating and nourishing properties, coconut oil is very effective when used as a hair mask. Take a half tablespoon of coconut oil and rub it between your hands to warm it up. Before it completely melts, you want to apply it to your hair. Start from the middle towards the ends of your hair. Use more, according to the length of your hair. Then, use another half tablespoon and apply it to the crown of your hair.
Once, you have thoroughly applied the coconut oil, use your fingers to massage your hair. Use your fingers to comb your hair from the front to the back and vice versa, and help the oil to sink into the hair. Also, use your fingers to massage your scalp.
This will stimulate the blood flow and help the coconut oil to have a better effect. Coconut oil can also be used in combination with other oils like olive, jojoba, or tea tree oil. In order to give the coconut oil enough time to penetrate the skin, you can leave the mask overnight. To protect your sheets from the coconut oil, place a towel on top of your pillowcase. Use a thicker and softer towel, that won't damage your hair but will soak up all of the excess oil. You want to use a scrunchy to keep your hair in place.
In the morning you want to shampoo your hair twice to make sure you are removing all coconut oil from your hair. When you shampoo your hair for the first time, focus on your scalp and on removing all of the coconut oil from it and when you shampoo your hair for the second time, use less product and focus on your ends. Once you dry your hair, you will notice how silky and smooth it feels. The mask will help your hair restore and heal itself. It will also help the broken ends and will bring some life into your hair. To see the long-term benefits of coconut oil, use it every week.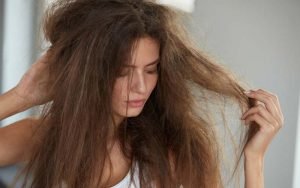 Frizzy hair can be hard to tame and style, however, it can be managed easier and defrizzed with coconut oil. If you have frizzy hair, you can use coconut oil before or after styling your hair to smoothen it. When applying coconut oil onto dry hair, little goes a long way, which is why you only need a pea-sized amount. Use your palms to heat the oil and distribute it evenly onto your hair. You want to apply the oil from the middle of your hair, down to the ends, as coconut oil can make your hair look greasy if applied on the crown of your head. Once applied you will see a noticeable difference in your hair's texture and appearance. It will become silky, smooth and shiny. If you have curly hair, you will notice that the coconut oil helps your curls to be more defined and stay in place.


Coconut oil can protect your hair naturally and prevent pollutants and chemicals from damaging your strands. We all know how dry and damaged our hair can get after swimming in a pool, which is why we should protect it from the damage. Coconut oil is perfect for this job. It is a natural and environmentally friendly way to protect your hair from the chlorine and other chemicals from the pool water. It is also great in protecting your hair from the seawater, which is why it should be a staple item in the summer. Apply the coconut oil with your hands and distribute it evenly. Then, use a wide comb to brush your hair and distribute the product. Coconut oil lays on the strands of your hair and protects them from the damage from the environment, leaving the hair soft and glowy.
Because of its nourishing and healing properties, coconut oil can make any hair conditioner work better and penetrate the strands deeper, giving them more moisture and hydration. After shampooing your hair twice, apply the conditioner to your hair. Focus on the ends of your hair the most. On top of the conditioner, apply a generous amount of coconut oil. Wait for at least 15 minutes then rinse everything thoroughly. It will prevent the conditioner from evaporating and will ensure that your hair absorbs it better. This method will make your conditioner more effective and will leave your hair rejuvenated and silky.
HELPS WITH DETANGLING YOUR HAIR
If you have frizzy and brittle hair, combing your hair can be a nightmare. The knots can be hard to detangle and the whole process will leave a bad taste in your mouth. Combing your hair can also be time-consuming and painful if you have curly hair. This is where the coconut oil steps in to save the day. Apply some coconut oil on the sections of your hair that are giving you trouble, or apply a small amount on your entire hair. This method is also a great solution for kids, as it will give them an easy, pain-free experience to hair care and combing.