Sleek, shiny, and dead-straight hair make a statement like no other. The hairstyle goes with pretty much every face-cut out there. But those of you with curls or waves would know that the method of straightening is not as easy as it may seem. Before you're halfway into the party, your hair starts to get frizzy and messy. What seems like an easy procedure, has more technique than you thought. It starts right from the shower to even after using a flat iron. But with just a few tricks down your sleeve, you will have perfectly straight hair. In this article, I will show you 10 tips to effectively straighten your frizzy hair without damaging it.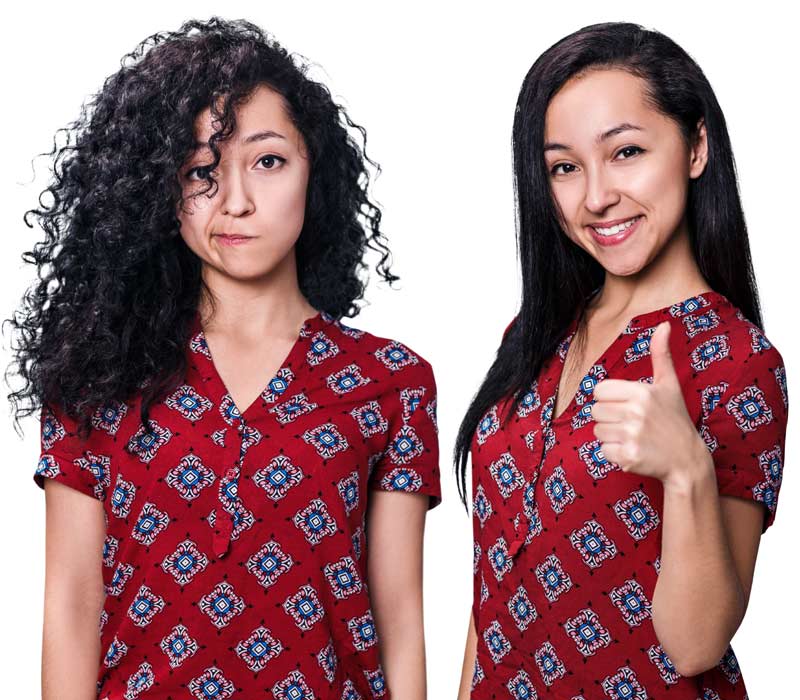 1. START PREPPING DURING SHOWER
This may sound a little off, considering your hair takes its natural shape while you shower. But you need to lock in as much moisture as you can, to avoid dry hair which will get frizzy while straightening. We recommend combing in the conditioner using a paddle brush. This smooths out and bend or tangles. Rinse out the conditioner lightly and leave your hair to air dry. There is no need to handle hair vigorously.
2. DRYING FRIZZY HAIR
Image by Ryan McGuire from Pixabay
Blow drying damages your hair. It makes it brittle and frizzy when you start to straighten. After dabbing your hair dry, you must leave it in the open air to let it dry. Cool drying is also recommended. Most dryers have the option of using cold air to dry hair. Divide your hair into sections and use cool air. Always keep the nozzle facing downward. This prevents hair from getting frizzy.
3. DO NO USE IRON ON WET HAIR
We feel this is the most essential tip of all. You must, at all times, make sure that your hair is fully dried before you use a flat iron on it, your hair will get fried. If you hear a sizzle when you are ironing your hair, immediately stop. The high temperature on wet hair may result in hair getting burnt. Rough drying with a drier is a good option since you will already be using iron for styling it.
4. BRUSH FOR FRIZZY HAIR

The brush matters because its shape gives the finish to your hair. Do not use a round brush if you are aiming for straight hair. Instead, opt for a flat paddle brush. The material matters too. Pure nylon will cause static and ultimately, frizz. Plastic brushes are easier and more comfortable to use.
5. HAIR STRAIGHTENER TEMPERATURE CELSIUS
While using a flat iron, remember to first let it heat up to its final temperature. Do not start using it immediately. This is because if the iron is not completely hot, you will have to use it for a longer time. This will result in more added damage. You need to choose an optimum temperature for your hair and use the iron on that only. Normal hair can be ironed at 280 to 380 and extra frizzy hair 330 to 400, start ironing from lower temperature and increase as you need.
6. HEAT PROTECTION
Frequent ironing can void your hair of essential proteins. Fortunately, there are products to prevent such damage. These are sprays and balms, which keep the natural oils in your hair intact. The good products add sine and de-frizz your hair, leaving your straight hair healthy and silky. Invest in a high-rated product and you're set. You will have to apply it before straightening your hair. Read the instructions on the pack before giving it a go.
7. SPLIT HAIR INTO PARTS
As you may have noticed, large chunks of hair are a hassle to get straightened. The same goes for randomly picked strands. You need the first section of your hair. This helps because you don't have to apply heat repeatedly to get the same hair done. If you have thin hair, section your hair into two from the middle. With thick hair, split it into four parts and clip them. Now work on one part until it is completely straightened out. Once you're done with all of the parts, you'll see an even consistency. Sectioning is also important because it saves time. It is easier to keep track of your progress without having random wavy strands in the end.
8. PULL YOUR HAIR TAUT
Loosely held hair tends to have waves even after you've used a flat iron on it. As a result, you will have to iron it repeatedly. This damages your hair in the long run and quite frankly, will exhaust you. Take your hair from the tip and pull it with moderate tension. Now run the iron from the roots towards the tips. This is particularly important for curly styled hair. Without pulling it taut, you'll find it a hassle to get 4c hair straightened out in the first two tries.
9. USE A STRAIGHTENING BRUSH
Image by yourbestdig.com
For folks who regularly straighten their hair, a straightening brush is a decent option. This is an appliance which is shaped like a brush, but also dissipates heat while you comb your hair straight. It works at lower temperatures than the regular iron, making it a safer option as far as hair health is concerned. This doesn't mean that its effectiveness is compromised. Hair preparation is the same as with flat irons. Divide conditioned and dried hair into sections and carefully comb your way downwards; just like brushing your hair.
10. A SETTING SPRAY FOR THE FINAL TOUCH
Small hair tends to frizz up as soon as it is straightened. That won't look good at a party. In order for you to make straight hair survive the day, you will need products to weigh it down and add a little shine. You want to use a light hairspray for this. Wait for hair to cool down and then lightly spray hairspray on top. A better method is to apply the spray on a brush and then comb it into your hair. This makes sure your hair doesn't get stiff.