Are you thinking about best hair gloss treatment at home? Congratulations! you are in the right place.
It feels good to look in the mirror immediately after your hairstylist takes their hands off your hair, the fresh and shiny color attracts you.
Unfortunately, salon treatments do not last forever, that's why you may have to continue those pricey appointments with your hairstylist. Many people wonder if buying a bottle of hair gloss is worth it. Well, it would save you both time and money. There is absolutely nothing to lose because that is what your hairstylist uses to do the trick!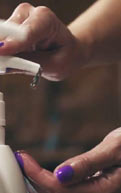 Hair gloss is trendy! Almost everyone wants to try one. Getting the right product and using it in the right way is very important for the first time use so that you don't get discouraged. That's almost impossible if you don't know enough about hair gloss, therefore we will discuss every point that can inform your decision.
WHY SHOULD YOU USE A HAIR GLOSS?
There is no doubt you would love to sustain the exact look you had after leaving your stylist's salon, but that is not always the case. In a few weeks, you find your hair taking up brassy notes, indicating it's time to visit the stylist. That is where hair gloss comes in handy. Making your hair shiny is not enough reason to visit the salon. Your hair gloss would add the kind of shine you desire.
Hair gloss, the semi-permanent chemical treatment, restores tone, and color. It adds deep luster to hair and keeps frizz away. It makes your hair look well-groomed and clean.  You may have been told that chemicals aren't good for your hair. Well, truly, not all chemicals should be used, but hair gloss does not contain harsh chemicals like peroxide and ammonia. You can be rest assured that with the right product, you won't damage your hair.
Hair gloss protects your hair against external chemicals. It shields the hair, keeps it unaffected by the pollutants in the environment and other chemicals like chlorine in the pools.
Hair gloss has two categories, tinted and clear. The clear variety only shines your hair. If you are going to buy a clear variety hair gloss product, you don't have to consider your hair color. The tinted variety enhances your hair color. You have to make sure that you are going for a product with a similar color to your hair.
Except you especially go for color-depositing hair gloss, most hair glosses don't contain color deposits which makes them incapable of changing your hair color. It can enhance the natural color of your hair but will not change it.
With hair gloss, your hair stands a higher chance of staying glossy and shiny for long. You can confidently postpone your appointment with the hairstylist for up to six weeks without fear of looking unkempt.
As said before, it saves money and time.
I know what are you thinking at this moment. You want to go to the next store to purchase some hair gloss. No rush! I will give you the time to do that after reading everything in this post. In the meantime, let's learn how to choose the right hair gloss.
HOW TO CHOOSE THE PERFECT HAIR GLOSS?
Not all products would work for you. If you go for the wrong product for your hair, you may end up with a not exact result as your hairstylist gets.
Everything about your hair must be considered when going to buying a hair gloss. Is your hair straight, curly, or tightly curled? Are you a redhead, blonde, or brunette? If you are buying the tinted variety, always go for one with a color that is the same as the color of your underlying hair. If you are going for a clear variety, color doesn't matter. Your hair would gleam.
You could also find a color-depositing hair gloss. If you want to change the color of your hair temporarily, go for one. The more you want to make the color change noticeable, the more you should apply it. However, note that it is not a hair dye, and it can never be the best option to dye your hair. Hair gloss only coats your hair strands, it doesn't change the color permanently.
When you have all the details mentioned above, you can go to buy a product. You can get one from a store, and you may keep the tips in your mind that I have shared with you in this post.
HOW TO APPLY HAIR GLOSS AT HOME? BEST HAIR GLOSS TREATMENT AT HOME
Get a product that works for you. You may pick from the provided options. It is advised that you do a bit of research on the internet or have your stylist recommend one.
Shampoo your hair. Make sure every part of your hair is covered.
Separate your hair into sections depending on the volume. The essence is to make sure your hair gloss touches on all parts of your hair.
Now it is time to add the hair gloss. Do it from the root to the tip. Make sure it evenly touches all parts. The trick is massaging it with your hands.
leave the hair for approximately three minutes. Check your product's label it should have a time specification. You may wash your hand after reaching the maximum time limit that is provided on the label.
Rinse and condition your hair.
Air-dry your hair or style it. Your choice!
That's all it takes to restore the shine of your hair.
5 HAIR GLOSSES TO BUY FOR SHINY HAIR
1. Christophe Robin Shade Variation Mask
It makes your hair bright and gets rid of brassy tones. Ideal for dehydrated and damaged strands because of reparative ingredients like buriti oil and almond butter. Goes for $51. Get at Amazon.
2. John Frieda Color Refreshing Gloss
Use it anytime to brighten the color of your hair. It has a good number of gentle ingredients that you can use each day without adverse effects. It is also cheap at $7. Get at Amazon
3. Redken Shades EQ Color Gloss
This is an option for you if your tresses are damaged. You only need a one-time application to get your hair looking silky and shiny. Because of its nourishing wheat amino acids, it is deeply conditioning.
4. Rita Hazan Ultimate True Color Shine Gloss
Proven to be very amazing. Apply it after shampooing and see your hair color became enhanced. The shine lasts long. It works for non-colored and colored hair. It is available in various colors. Get this $26 product at Amazon
5. Madison Reed Color Reviving Gloss
It is unique unlike other products on this list, just one application can last through eight shampoos. You can easily buy it from the market or an online store.
Conclusion:
Haircare started before we could find a name for it. Several noticeable improvements have birthed several hair care products, one of which is hair gloss. Don't miss the advantages. Get a bottle of hair gloss today and enjoy the daily compliments.